How to Plan Your Homeschool's Daily Schedule
Ah, the many ways to schedule your homeschool day!
The homeschool schedule ideas are endless!
Take time to consider your family, your time, and your chosen curriculum and then make a plan.
It can be achieved!
I have faith in you!
We are in the middle of planning our Ideal Day. Unless the rest of the day is running as planned, your homeschool daily schedule will not be as smooth as you like.
I have been homeschooling for over seven years now, and I have used many ways to schedule our homeschool subjects.
I have used fancy charts, homeschool tracking software, fancy planners, a free printable homeschool schedule, and simple foam board.
Find what works best for you and put it to use in planning your homeschool daily schedule.
One thing has become very apparent though….no matter what I use to plan the subjects, we absolutely have to do school first thing in the morning at a consistent time or it doesn't get done.
Even if we start an hour later, I start hearing the complaints and questions asking what they can "drop" doing for the day.
Clock in Momma! Every day at the same time.
This is your J-O-B!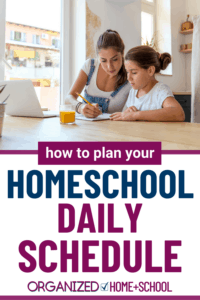 Steps to Create your Homeschool Daily Schedule:
Look at your Ideal Day Timeline and see what hours you blocked off for school.
We are going to go through 4 steps to make sure you have blocked off enough time to implement and realize your ideal homeschool daily schedule.
Even the art projects you never get around to will get done if you are consistent with the time you have blocked off for learning.
STEP 1: What time are you going to clock in for work as homeschool teacher?
Are you a morning person?
Are your kids?
Our minds are freshest in the morning.
If we don't start school by 9am, we are playing catch-up the rest of the day.
If you stick to the same time every day, your kids will count on it, expect it, and quit asking you to change it once they realize Mom isn't backing down.
I love the Annie Dillard quote, "A schedule defends from chaos and whim. It is a net for catching days. It is a scaffolding on which a worker can stand and labor with both hands at sections of time."
Even if a different time works better for your family, consistency is the key for any homeschool daily schedule.
STEP 2: Go grab your homeschool curriculum
Now determine how many days is required to complete it by the end of the year.
This will be different for each of us depending on if you school year-round or stick to the public school schedule.
Also, the curriculum you use will dictate the amount of time you need to block off to finish the studies each day.
Here are 2 examples of the curriculum I use and how I schedule it out for the year:
Math: MathUSee— I have used this math curriculum for all of our homeschooling years. Each level has about 30 Chapters with about 6 lessons in each chapter and a chapter test on top of that. You can break this down several ways: you can require your child to do every lesson in the book, work on math a set number of minutes per day (60 minutes), or have them do one lesson Monday-Thursday and take the test on Friday. I have actually done all three of these. We now work every lesson in the book and then take the test for the simple fact that I want them to get as much practice as possible. So on our schedule, I write "one lesson" on each day. I don't stress about if we are not finished with the book by the end of the May. We just continue on into the summer until we finish, then go on to the next level after that.
Science: Apologia — I love the apologia junior notebook
that accompany the textbooks. In the front of the notebooks, the author has sample schedules you can use to help plan the year. When you get into the upper middle school and high school level apologia science courses
there aren't any notebooking journals. But, I have found lesson plans already scheduled out here at Donna Young's site. Love it! I simply look at these, determine which activities I want my kids to complete, and log it into my planner. I also use with these planners along with the lectures, quizzes and tests at Virtual Homeschool Group. It is completely free and they grade the work for you.
How great is that?
So take every subject and your curriculum you have chosen and do the above exercises for each child.
This will help you determine both how much time you need each day per subject.
Add up those allotted times and you will have a good idea of how much time you need for your daily homeschool schedule.
It is always a good idea to add some extra time as well to make sure you account for the unexpected or to just give yourself some breathing room to not feel rushed.
STEP 3: Pick the Homeschool Planner of your Choice
There are tons of planners to pick from, but I have used 4 different ones that I want to share with you. They all have been great, but you should choose the one that works best for you.
Foam Board: I purchased this foam board from Hobby Lobby and used Velcro tabs and card stock cut to size to have a very visible schedule that we could change items easily around on from day to day. My kids didn't like this as much because they love to have a list they can "check off" their subjects as they finish them.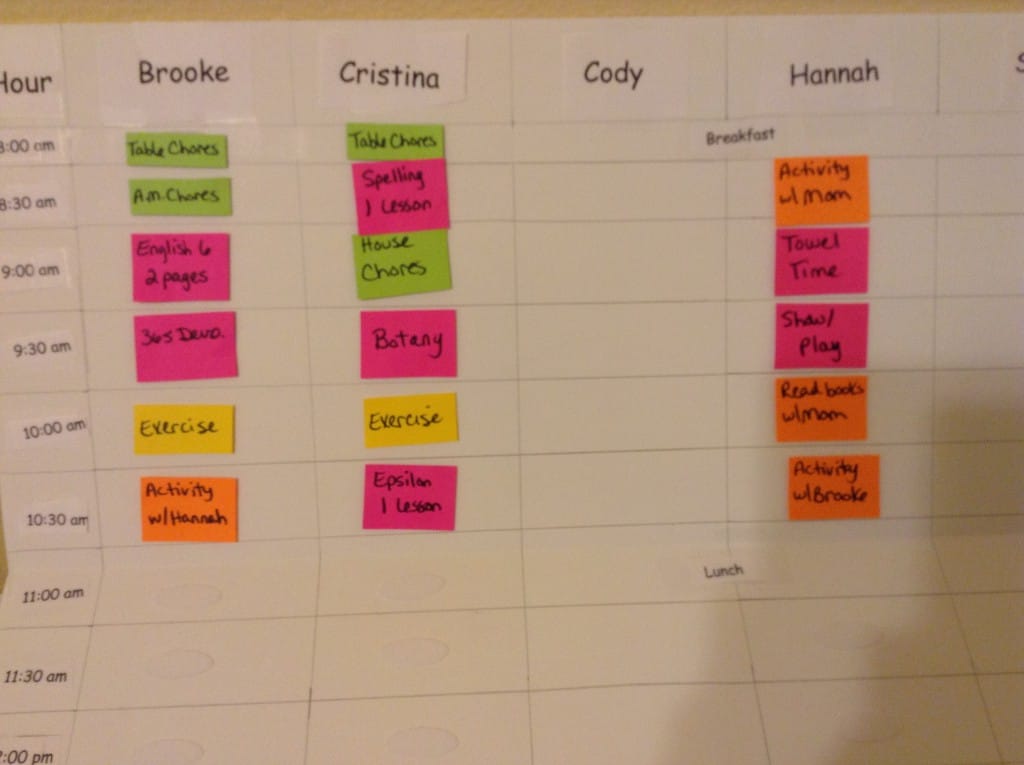 Homeschool Tracker Software: This is a software program I currently use for our homeschool daily schedule. I love how you can put in your curriculum and publisher and schedule out what is done each day.
You can put a beginning and ending date and it simply copies it forward for you. I plan our whole year at a time using this software. It is also easy to change mid-year if you need to tweak your schedule. It keeps up with your children's reading lists, field trips, and attendance records.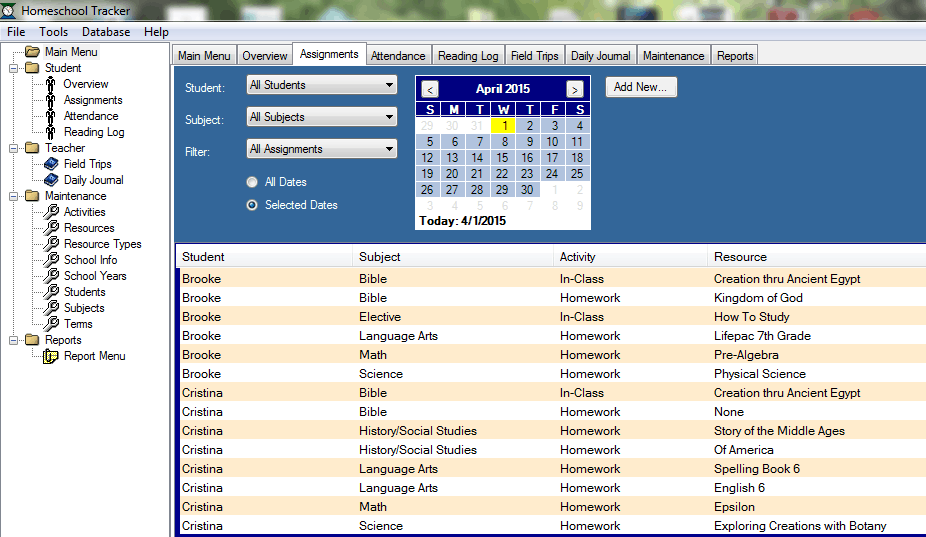 My children also love the reports I print out for them for the week to check off their work as they go. This helps them feel productive. The homeschool tracker also keeps track of grades for you.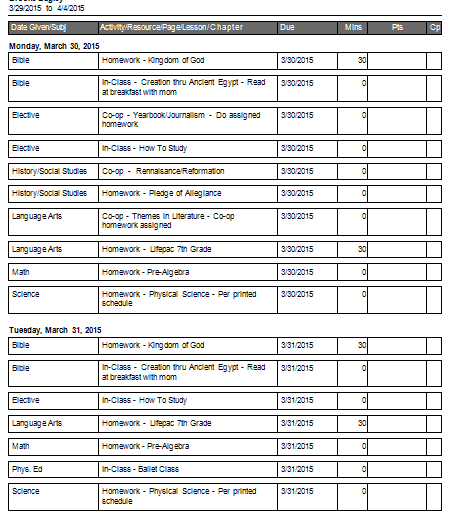 Pre-printed Planner or Journal: I have also used the Well Planned Day planners. I purchased their student planners as well for each of my daughters. I found it time consuming to log in by hand all of their assignments. You can't schedule too far in advance either because if you get behind or change curriculum mid-year, there will be a lot of erasing to do. Not fun!
STEP 4: Re-Evaluate your Ideal Day Timeline.
Now that you have planned out your ideal daily homeschool schedule, make sure you have enough time blocked out for homeschool in your timeline.
If you did not plan enough time for homeschool in your Ideal Day you will need to re-evaluate and make time for all you have planned or drop some of what you have planned.
Be realistic with what you think you can get done in the amount of time you have planned, or you will become discouraged.
And remember, "If the plan doesn't work, change the plan, but never the goal."
---
RELATED POSTS: