Best Gifts for 1 Year Old Girls
Are you wondering what to buy for your 1 year old daughter?
Or maybe you need a gift for a friend's daughter?
This post has some great gifts for 1 year old girls on Amazon. I hope this simplifies your shopping process.
My goal is always to reduce my time spent and be as efficient as possible, so this list has a good variety of gifts for 1 year old girls you may have to purchase a gift for.
The items listed in this post have at least a 3.5 star review or higher on Amazon and a lot of reviews which means many have been sold. Some are even best sellers on Amazon.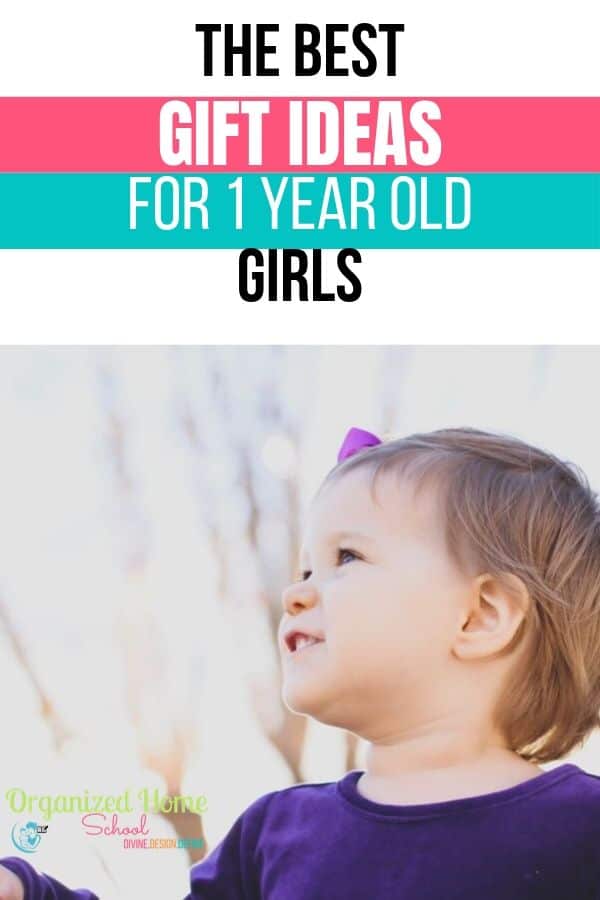 I have included 5 different categories of the best gifts for 1 year old girls including:
This should provide you with a good selection of different items to choose from.
So let's get shopping…
Best Gifts for 1 Year Old Girls
Kids Play Tents for 1 Year Olds
1. SKL Kids Princess Play Tent
This is a great little play tent for ages 3 months and up! It collapses and folds easily and comes with a storage bag for easy clean up when done playing.?
Some highlights of this girls princess play tent are:
Big enough for mom or big sister to get in with baby to play
Foldable ball pit
Zippered bag storage included
Balls not included
Mesh design
See-through so mom can see baby while playing inside
Here is a summary of what some helpful reviewers had to say:
250 balls are enough, but up to 500 can be bought separately for more fun
Up to 4 little ones were in at one time safely
The top falls off easily so one customer safety pinned it to keep it on
Does tip over easily but little ones seem to think it's fun
Helped give mom more free time while working beside baby in tent
If you?re considering purchasing this princess girls play tent, be sure to purchase the balls separately. Here are the balls most commonly purchased with this tent…
?
2. Wilwolfer Princess Castle Play Tent
This sweet tent is truly magical with lights that mesmerize your little one while she plays.?
Some highlights of this lit up magical girls princess play tent are:
Comes with star-shaped lights
Provides a good sized space of 55 x 53 inches
Structure is more stable with the hexagon-shaped design
Can be used indoors or outdoors and is easy to clean
Carry bag is included for easy storage
?
Here is a summary of what some helpful reviewers had to say:
Takes some time to put together but well worth it
Added a foam cushion so she could nap in it
All 4 daughters ages 11 down to 2 fit in it perfectly
Lights can blink or stay constant
Very sturdy and even Grandpa fits in it to play with little one!
Also purchased with the tent for extra comfort is this hexagon-shaped rug that is super soft for comfortable play…
?
3. Playz 3 pc Kids Play Tent Crawl Tunnel
Your baby can practice their new mobility by crawling through the tunnel from one tent to the other with this fun play tent.
Some highlights of this kids play tent tunnel are:
Includes a basketball hoop to practice coordination skills
Includes a carrying case
Indoor and outdoor use
Soft fabric and breathable mesh
The tunnel, tent and ball pit can be used together or separately
Balls are NOT included
Here is a summary of what some helpful reviewers had to say:
200 balls are not enough to cover the bottom so at least 400 is needed
Setup is quick and easy and spring loaded so it helps prevent it from collapsing
Great gift for little ones!
Loved playing with it, but material is thin and rips very easily
Keeps the baby preoccupied for a long time
Remember the balls are not included, so these are frequently purchased with this tent according to Amazon…
?
4. LeapFrog Musical Rainbow Tea Party
7. Strider – 12 Sport Balance Bike
Electronic Learning & Education Toys
9. VTech Sort and Discover Activity Cube
This activity cube is sure to delight any child! It has so many things to do it should keep them occupied for a long time!
Some highlights of this activity cube are:
Has over 75 features including songs, sounds, and phrases
Teaches colors, numbers, and animals
Book plays nursery rhymes
Includes a shape sorter to help learn fine motor skills and shapes
Light up piano keys will spark their music talents
Here is a summary of what some helpful reviewers had to say:
Great toy but does the same as other VTech toys – only need one
Kids love all the different sounds and lights
Stickers peel and disintegrate when they get wet (keep the sippy cups and bottles away!)
Songs get annoying but baby loves them
Lots of buttons to push, spin and twist
10. LeapFrog Scout and Violet 100 Words Book
This book is a great introduction to teaching different words and expressions to your toddler in both English and Spanish!
Some highlights of this Scout and Violet LeapFrog book are:
Intended for ages 18 months to 4 years old, so it is great for a 1st birthday gift
Teaches 100 words in both English and Spanish that are age-appropriate
The words sound when they are touched on the page
Words taught include animals, food, colors, opposites, and more
Teaches fun facts about each word also
Here is a summary of what some helpful reviewers had to say:
Daughter loves the book but the slick toddler proof pages are hard for her to turn
Does not need a computer to work, only batteries
Easy for kids to use and learn on their own
What a great learning toy!
Touch feature is incredibly sensitive though
11. VTech Sit-to-Stand Ultimate Alphabet Train
This toy train has many uses. Baby can sit and play with it, ride it, or push it around. It can grow with your child!
Some highlights of this VTech alphabet train are:
Comes with 10 activities
Counts as blocks are dropped in the chute
Encourages role-play with a walkie-talkie and number pad
Caboose turns into a wagon to put toys in for storage!
Blocks help to learn letters and vocabulary
Here is a summary of what some helpful reviewers had to say:
One of their child's favorite toys
Child used it to help him learn how to walk
Very fun interactive toy and encourages balance and imagination
It has so much to do on it and teaches a lot of information
Stickers on small square pieces come off very easily when baby chews on them
12. Fisher-Price Laugh & Learn Smart Stages Chair
This fun chair has graced my living room floor the past 3 years. My youngest daughter loved sitting and playing in this chair since she was 1 years old.
Some highlights of this Fisher-Price Laugh & Learn Chair are:
Makes great seating for your little one while watching a family movie or reading a book
Has over 50 sing-along songs
3 levels of play to grow with your child
Toddlers love to store (hide) smaller toys in the seat that raises
Sit and stand to hear the words "up" and "down"
Here is a summary of what some helpful reviewers had to say:
Child plays with it constantly and enjoys the sounds
Awesome for a one year old! Able to stand on it without it tipping over
Sturdy and easy to use for tots
Design is simple and no parts to come off and on to lose
The voices are much less annoying than other toys
13. Amy&Benton Toddler Piano Keyboard
This mini piano is so cute for the little girl in your life. This is a great way to introduce a child to the gift of music!
Some highlights of this piano keyboard are:
Features percussion instruments and demo songs along with the regular piano sounds
Child can play and record their own songs
Comes with a microphone
Automatically powers off with inactivity
Has hidden storage in the top to keep the microphone
Here is a summary of what some helpful reviewers had to say:
The sound of the microphone unfortunately cannot be recorded.? Only the music played.
It's kind of small but perfect size for little ones
She is literally glued to this thing and drags it all over the house.
Sometimes the microphone stops working
Smaller than expected
14. M Sanmersen Piano Mat
This is perfect for walkers and even crawlers alike. Children will have a ball making music with their feet and hands with this piano playmat!
Some highlights of this piano playmat are:
Piano mat lights up for more fun
Multiple sound effects when your child dances
Clear sound and adjustable volume (love this!)
Push the animals on the mat and it makes animal sounds
Foldable for easy storage
Here is a summary of what some helpful reviewers had to say:
Slides a bit so put some hot glue on the bottom to grip the tile floor
Both kids can play on it so a decent size
Noise isn't too crazy and very easy to store
Fun, interactive educational piano mat
Fun gift for toddlers!