I'm sure you have recently heard of bullet journaling in the past year. I know I have!
I've seen them on Amazon like these here, but often wondered how and the world to use one.
I love keeping to-do lists and scratching things off throughout the day to make me feel more productive so I have been wondering if bullet journaling was a form of to-do list.
Kind of a fancy kind of to-do list, right?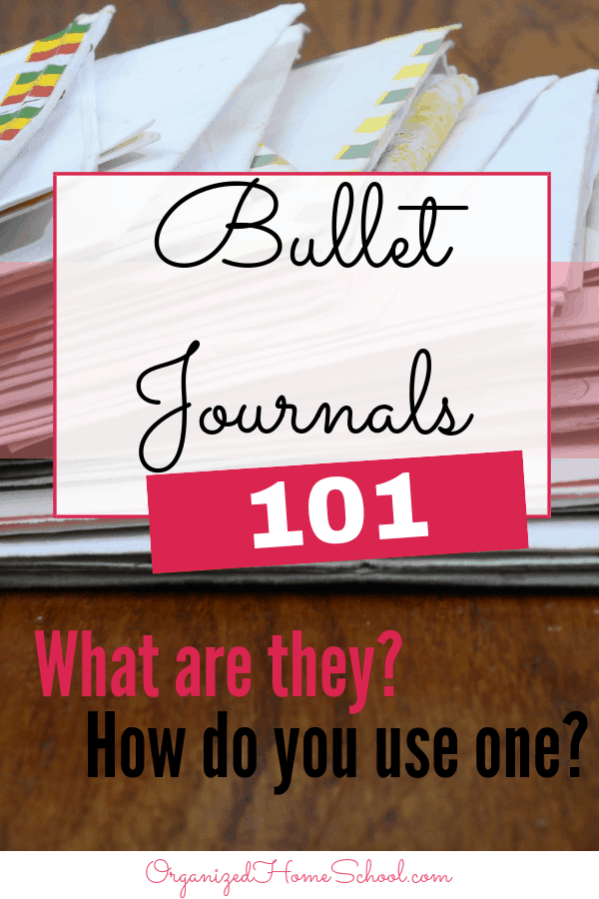 This post may contain affiliate links to products I recommend. This means I make a small commission off your purchase, but this does not affect your price.
After looking more closely at the bullet journals on Amazon, I realized it was more than just a to-do list. You can use bullet journals for recording your thoughts, your finances and budgets, your schedules, and just random other stuff you want to write down.
Cool, huh?
Awesome Benefits of Keeping a Bullet Journal
I have to remind myself at this point that perfection is not required for keeping a bullet journal.
My perfectionist tendencies seem to rear their ugly head when I'm trying to write or record things on paper.
Remember there is really no right or wrong way to do it. It is supposed to make life easier for you, not more difficult, so don?t be pressured to have it organized or look like others. (I'm saying this mostly for myself here :))
Here are some different ways you can benefit by having a bullet journal:
? Everything is in one place ? Using a bullet journal allows for all your different to-do lists, schedules, and notes to reside in a single journal. Yay for an awesome way to declutter the paper around your desk! Many people do have journals or digital to-do lists with this type of information, but it is inconvenient having one for grocery lists, meal planning, finances, home chores, and another for business to-do lists. It gets really exhausting keeping up with all the different spiral notebooks I have laying around the house for these types of lists.
? It is easy to do ? A bullet journal is also very easy to put together. You can do this how you like, but typically you start by creating the index, which becomes a broad selection of what to include. Then you number your pages and start writing. You can use symbols and short phrases instead of writing a novel for each thought or list!
? You can track your regular habits ? Since you are writing in the bullet journal daily, you are able to track your habits and see what needs to change. It can help you see that you spend too much money on coffee and eating out, or that you aren?t exercising enough. Okay, so that is what I know my bullet journal will reveal once I decide on which one I want to purchase.
How to Choose the Right Bullet Journal for You
There are so many cute and adorable bullet journals available that it can be really hard to choose which one to buy. One important thing I am looking at is if it is thick enough for all my different pages I want to have and if it has nice large pages so I can have plenty of room to write (and see!)
Look for one that can stay closed when needed, but when you open to individual pages, the spine isn?t so tight that it is hard to write in it. Also look for thick pages in case you decide to decorate some of the pages and don?t want anything bleeding through.
The Main Components of a Bullet Journal
While you can create the bullet journal however you like, it does help to have some direction for getting started. I was at a loss when trying to discover how to keep one.
Here are some ideas for you to try and include in your bullet journal:
? Legend or Index? Every bullet journal should preferably have an index. This lets you know where different sections of the journal are located, such as grocery and meal planning, or your budgeting pages. It is a great way to jot down fast notes as you can go right to that page and find what you are looking for.
? Page numbers ? Naturally, since you have an index, you also need to have page numbers. You can be as creative as you want, but make sure every page is numbered and it corresponds with what is in the index. This is a good idea, but I'm still wondering if I will actually do this or not. Seems a bit complicated for a journal to be numbered and hard to keep up with.
? Signifiers ? Signifiers are symbols that you assign to different types of notes. It can be helpful when you want to use them in place of longer phrases. This can be a happy or sad smiley face for your moods, a heart for a date with your significant other, or a Christmas tree when scheduling holidays.
After completing my research on what exactly a bullet journal is and how people are using them, I am very excited to narrow down my choices and purchase one.
Do you use a bullet journal? Do you have any tips or recommendations for me?
---