Hey, just so you know ... This post includes affiliate links. That means if you use them to make a purchase, I may earn a commission. You can read my full affiliate disclosure HERE
Are you in search of new and unique Homeschool Room Ideas?
Homeschool Rooms are probably as varied as the homeschoolers who use them, but we have searched around and tried to put several homeschool room ideas into one place for you to enjoy and gain inspiration from.
Most of these spaces are dedicated homeschool rooms.
Since not everyone has or wants space dedicated completely to school, we have also featured some multi-purpose spaces to show how others make that work for their families.
But with either option you will notice bookshelves and storage space are essential in almost every space.
PIN THIS FOR LATER!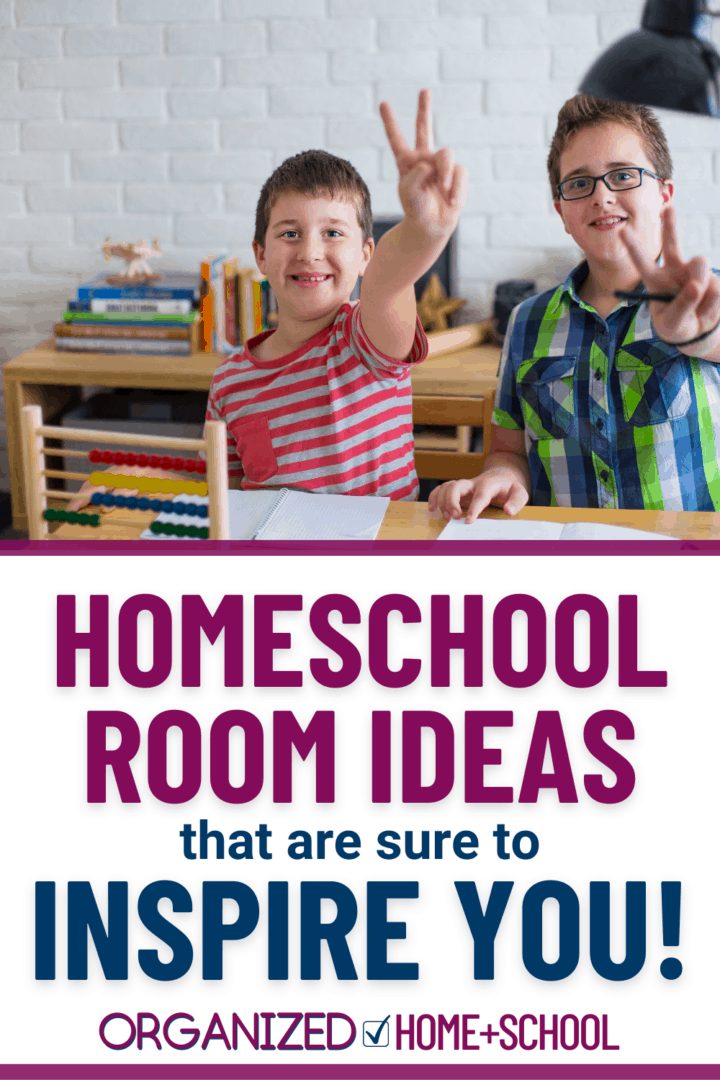 The more traditional home school rooms include desks, maps, and other educational posters.
Montessori and Charlotte Mason approaches to homeschooling really encourage hands-on experiences and movement. So these rooms may have different stations set up and include manipulatives easily accessible to the children.
---
Nicole's room @ Childrenareablessing.org
This homeschool space is set up for a large family with multiple age groups.
The room has amazing built-in bookshelves with tons of storage. She also has educational and inspirational posters throughout the room, as well as places to display her children's work.
Check out her blog for more details on how she organized everything and how they use the space.
---
Nicole & Sara at SimplyHappenstance.com
I love all the bright colors and color coding ideas they share.
One of the homeschool room ideas they utilize is they use drawers and shelves with a table top to create desk space.
Check out their blog for more details.
---
Kim @ Notconsumed.com
This homeschool room idea has a very traditional feel with an individual desk for each student and bulletin boards.
Although in traditional homeschool fashion the desks are made up of drawers and shelves which make organization easier.
Check out her blog and keep scrolling, because she also has some great ideas for multi-purpose spaces and more eclectic homeschooling.
---
Annie over @ Moffatgirls
This homeschooling space is unique in the way that they use color to organize all of their subjects.
This is practical, but also makes the room such a bright and cheery place to learn.
Check out her blog for other organizational tips and to see the rest of her beautiful space.
---
Darcy @ Justanightowl.com
This room has a fun storage idea of using lockers as well as traditional bookshelves.
Since this is her office as well, there are computer spaces for her and her children.
I love how she has them right next to each other.
Check out her blog for other neat ideas like having inboxes for each of her children to turn in their work.
---
Heather @ TimelessandTreasured
Sometimes you need tons of space and this homeschool room has it. She converted her basement into the homeschool space. My favorite element of the room is the homemade alphabet. What a fun way to help children remember what they have learned. Check out her blog and look below to see what she has changed over the years.
Heather's New Homeschool Room Today
This room is so peaceful and organized. She gives great details about how the room is organized and the importance of creating an environment for learning. Notice how she down-sized in space as she moved from having 3 homeschoolers and now she is down to 1, but both spaces are functional and beautiful.
---
Elizabeth @ RightWhereWeAre.com
This room is spacious and includes work and storage space for each child.
The awesome desk was homemade. I absolutely love how cheerful the bright colors are. Who wouldn't love learning in this space?
Check out her blog for other homeschool room ideas and the organizational aspects of the room.
---
Jennifer @ StudyatHomeMama
This homeschool room setup is great for those with a Montessori approach to homeschool.
Montessori focuses on hands on learning, so there are several items to store.
Check out her blog where she gives a good description of what each area contains.
---
Kim @ NotConsumed
This multi-purpose homeschool/dining room is just as the title describes. It is simple, containing just a bookcase and a table.
She describes what is on each shelf on the bookcase. This space definitely matches the saying, a place for everything and everything in its place.
---
Ashley @ TheHandmadeHome.net
This Homeschool Room is just stunning but her article is even better. She covers homeschool room essentials.
Some of the essentials she covers is having a space for everything, having individual space, and a space to move. Check out her site for more essentials and how she worked those into her amazing space.
---
Kim @ NotConsumed
This blogger was featured earlier with a more traditional set-up. This homeschool room idea does away with the traditional and has school happening all over the home.
You still see crucial elements like a bookshelf to store curriculum and a computer, but they are set up as part of the home rather than a dedicated school space.
---
I hope these rooms have inspired you and given you some new homeschool room ideas. I know it sure gave me some new projects to tackle.
If you would like your homeschool room highlighted in this post, we would love for you to share a picture and link to your blog! Leave a comment below and we will get you added!
---
RELATED POSTS: