Start with a Simple Task!
Lets face it.  You don't like having to clear off the dining room table every night before you eat dinner.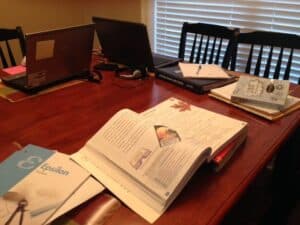 My kids deserve a quiet, peaceful workplace to organize their homeschool studies.  They deserve better than the dining room table listening to the preschooler and infant noise in the background.   My goal today is to move the table (like the one below) into the center of the room so that gives us more space for seating.
I currently do not have chairs for this table so I was thinking of purchasing these as well.
Our homeschool room also has a built-in desk where the children can study.  If you do not have a desk, I love these school desks pictured here.  I love the fact that they have storage below for books and supplies and each child could have their own workspace.  This homeschool desk is also adjustable to fit your growing student even into the teen years.
            Flash Furniture Adjustable Height Student Desk and Chair with Black Pedestal Frame
The Easy Part is Done!
Well, tackling the table was the easiest part of organizing the homeschool room.  I like to start with the easy things first so I feel like I have accomplished something!  It also allowed my children to immediately have a place to land to complete their studies (instead of my dining table).
Leave a comment below and share where your children do most of their schoolwork.