7 Simple Things I Did To Set Up Our Homeschooling Room
Do you need some homeschooling room ideas to make your space more inviting?
This past week, I actually got some time to work on our homeschool room. It has been a slow process, but it is finally coming together. I wanted to share with you the homeschool room ideas that I came up with. Some of these ideas I found on Pinterest. I just tweaked them to what works for us in our homeschool space.
I accomplished 7 easy things this week in our homeschool room. I would love to share them with you.
#1 Crayons, Markers, and Pencils…oh my!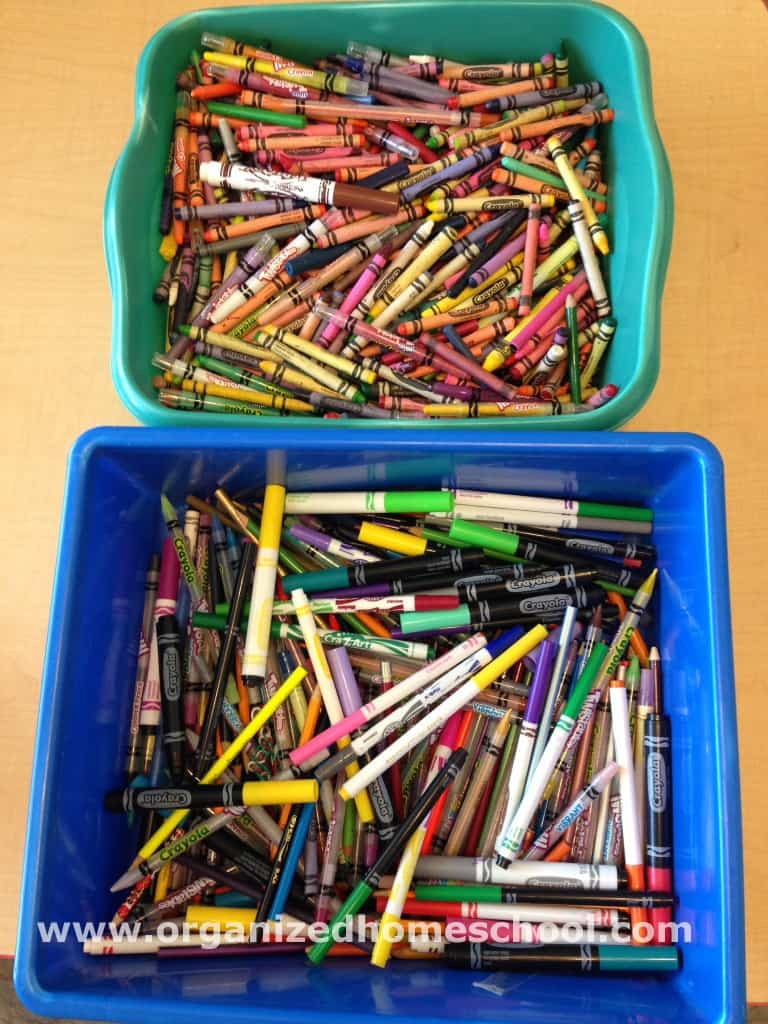 So when we packed up a couple of months ago, all the crayons, markers, and colored pencils were packed in one box all mixed up. I have a few more new boxes of crayons and markers I had bought at the beginning of the school year. Inevitably, the kids always pull the new boxes out and neglect the use this huge stash here that we have already.
For the life of me, I do not know why I can't resist those great back-to-school sales on school supplies at Walmart every August! I can't pass up the 50 cent prices on crayons, etc. Does it look like I need any more writing utensils? I think not!
So, to make the girls realize how many different colors they do have….I came up with this BRILLIANT organization tip for these pesky supplies…………ZIPLOCK BAGS!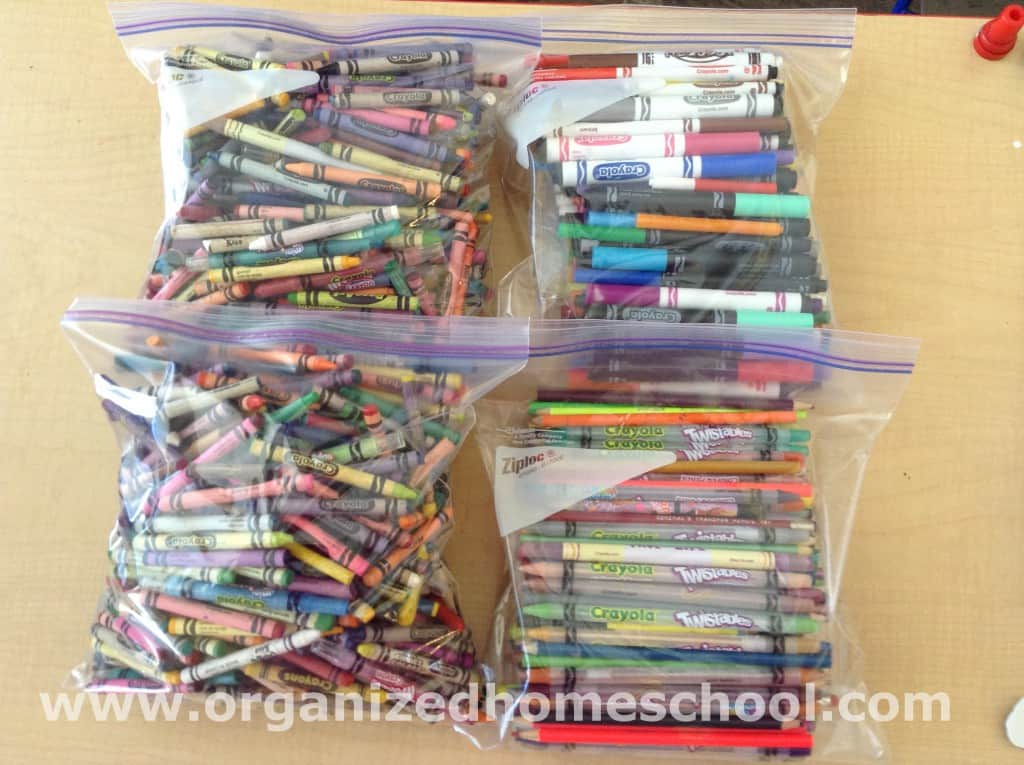 We have a bag for the markers. Another bag for the colored pencils. And it took 2 large Ziplock bags to hold all of the crayons! I wonder how long these will stay in order?
Stay tuned…..
I vow that when August rolls around next year, I am absolutely NOT going to buy another box of crayons or markers until these are used up! (I think I might need an accountability partner here on this one!)
#2 Classroom Posters
Don't you just love walking into a classroom on the first day of school and looking at all the posters and decorations the teacher has put up on the walls? I went to public school and I absolutely loved it when the teacher would change the wall posters to match the new seasons or a new holiday. It just made it more fun to learn.
Why not do that in our own homeschool classroom?
I found these posters at Mardel. I focused on these particular ones right now, because I have one child learning fractions. Of course, the United States map is a must so they can readily look at where each state is located. We also have a poster of the solar system. It is neat to see how small the Earth looks compared to all the other planets.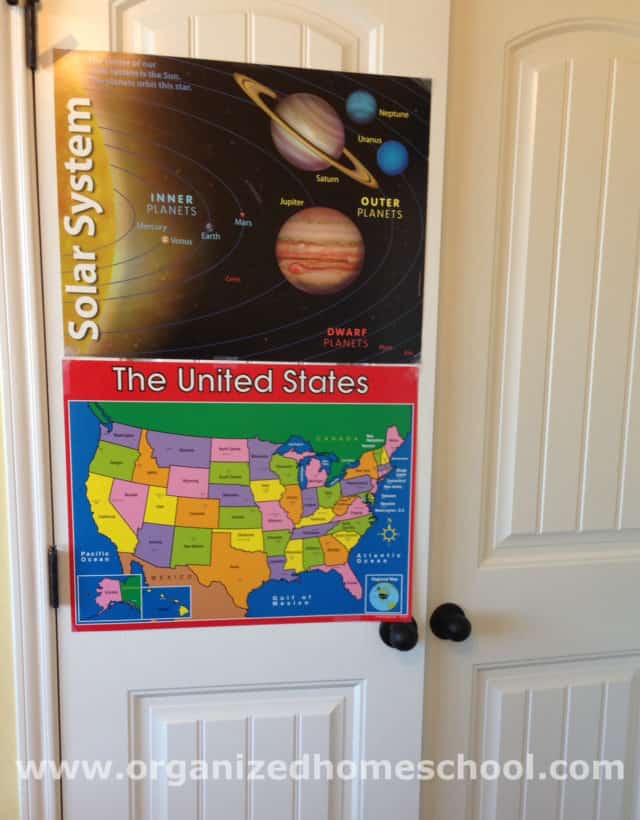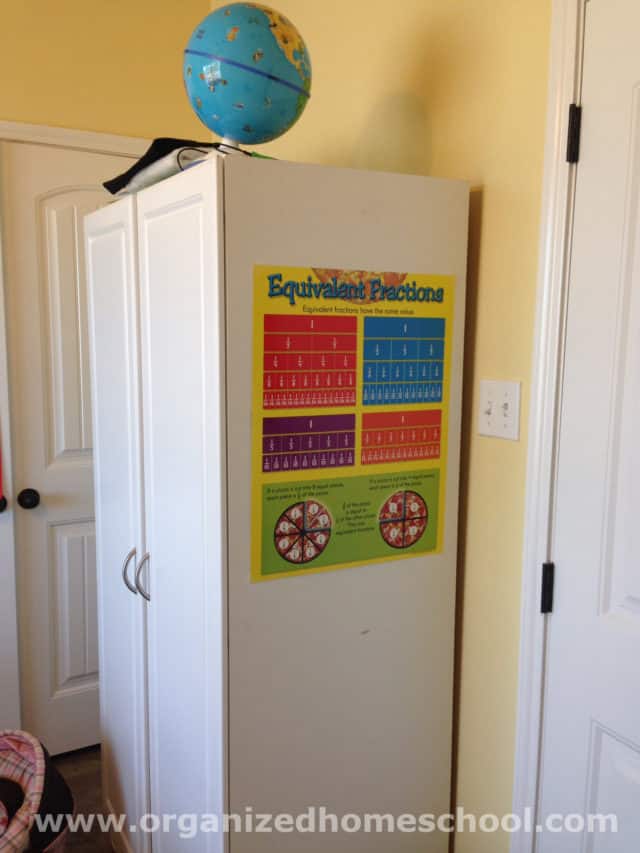 The fractions poster is hanging on the side of our utility cabinet in the homeschool classroom.
#3 Express Yourself with Words
Homeschooling room ideas are plentiful but the most fun project I did of all, was choosing a word for our homeschool room. I thought about using "Read" or "Homeschool", but I really like the word "Learn". That is why we do this homeschooling thing, right?
So I bought the wooden letters at Hobby Lobby for only about $2 each. So for a total of $10 I had some nice wall art to hang. And had fun painting them as well (late at night after the kids were in bed, there may have been a glass of wine involved too. shhh).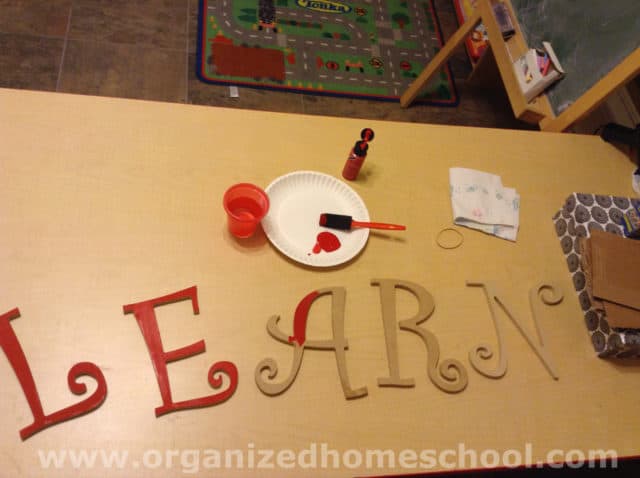 After painting 2 coats of red acrylic paint and letting them dry overnight, I hung them over the plastic bins that we organized our toddler and pre-k books in during this post. I couldn't believe how excited the girls were the next day when they saw this on the wall. Even my big girls thought it added a nice touch to the room!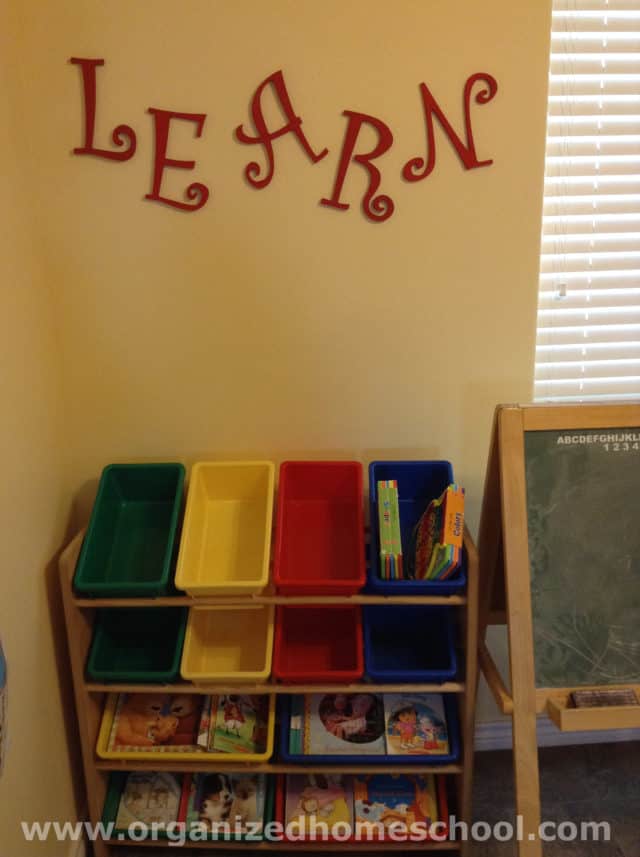 #4 Must have Maps
Amongst the most important homeschooling room ideas are the maps. What classroom doesn't have a map on the wall? I already showed you above our United States map on the closet door. But you have to have a World Map in the home school classroom as well. My oldest daughter absolutely loves geography! (She doesn't get this from me) She will sit and just stare at the world map and even draw the different countries in her spare time! If you ever want to know where a foreign country is, we ask her! She will point right to it.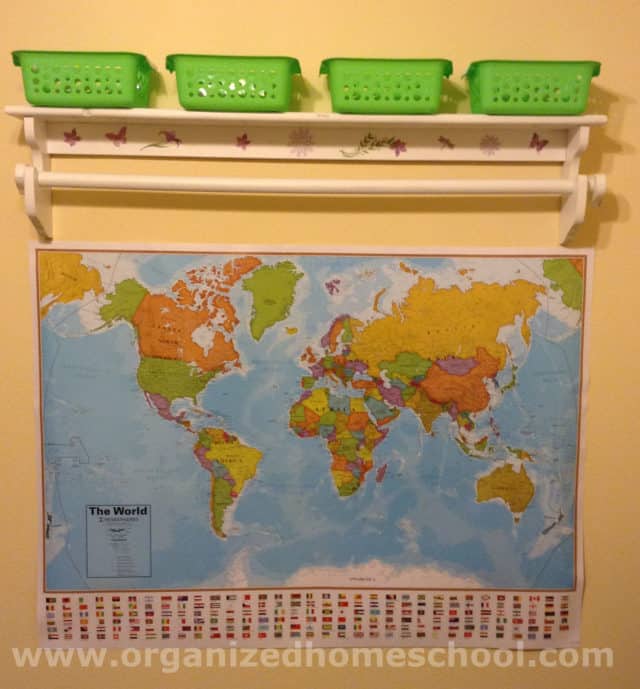 We also love to go to the maps when we are reading a biography, novel or studying history in our textbooks to point out where the story is taking place.
I also love this map because it has all of the different country flags at the bottom. The price at Hobby Lobby was only $10.
#5 Shelves with Storage Bins
Storage is mandatory in a homeschool room. We have so many projects, craft items, office supplies, and much more than the average home. I decided to use an old shelf that I have had for more than 10 years in my daughter's bedroom to hang above the world map for more storage. I bought the green storage bins for $1 at the Dollar General store. I haven't decided what to put in the bins yet. I'm still unpacking supplies from the move!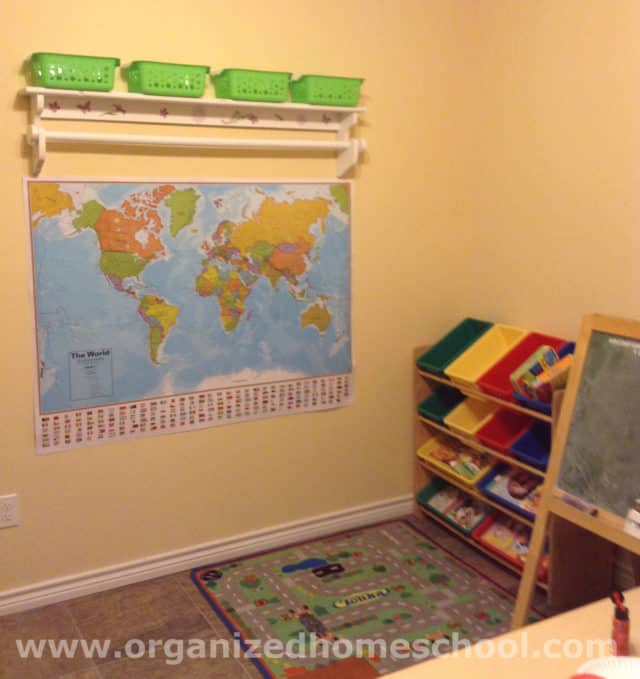 #6 Homeschool Chalkboard and White Dry Erase Board
You didn't think I would have a homeschool classroom without a chalkboard or white dry erase board did you? No ma'am!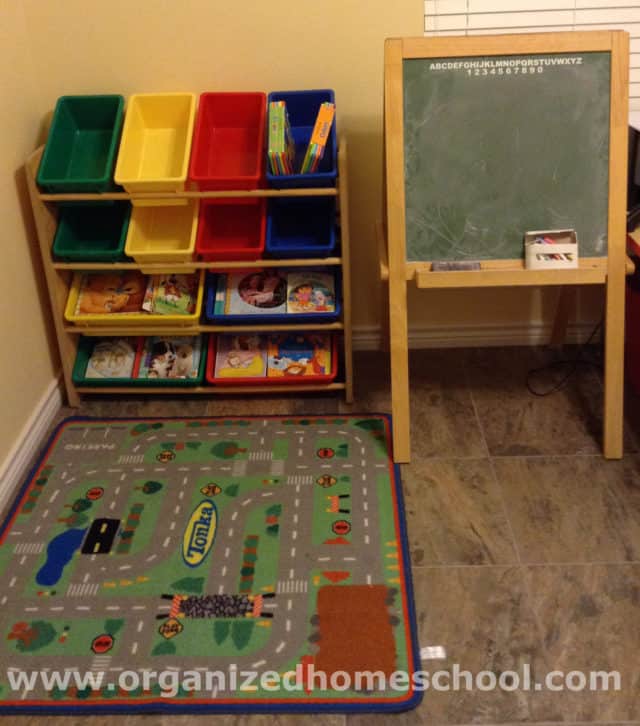 I chose to keep this child's easel that has a chalkboard on one side and the white dry erase board on the backside. You really wouldn't believe how much we actually use this in our schooling. I prefer the whiteboard since I don't get the chalk dust on my hands. The toddler loves the chalk, of course! And so does her clothes!
It seems math lessons are always learned quicker if you let the children work out the problems on the whiteboard with dry erase markers, than on paper. Amazing how that works! Why is that?
I have seen other homeschool room ideas on Pinterest and other websites using chalkboard paint to paint a whole wall in a room. It looks nice, but I have been a bit weary of doing that. I can't imagine what it would look like after several uses and being erased many times over. It would have to be cleaned regularly to look decent. I don't know about you, but I don't need a wall to wash to add to my chore list!
#7 Fun and Colorful Floor Rug
Last, but not the least of our homeschooling room ideas, is the floor rug in front of the children's books. I wanted them to have a nice comfortable place to sit and read. We have tile flooring in the homeschool room so it isn't very comfortable to sit on, especially in the winter when the tile is cold. My little one is glad she can sit and read her books on the floor without getting cold!
It's amazing what you can find lying around your house to use for a different purpose in your schoolroom.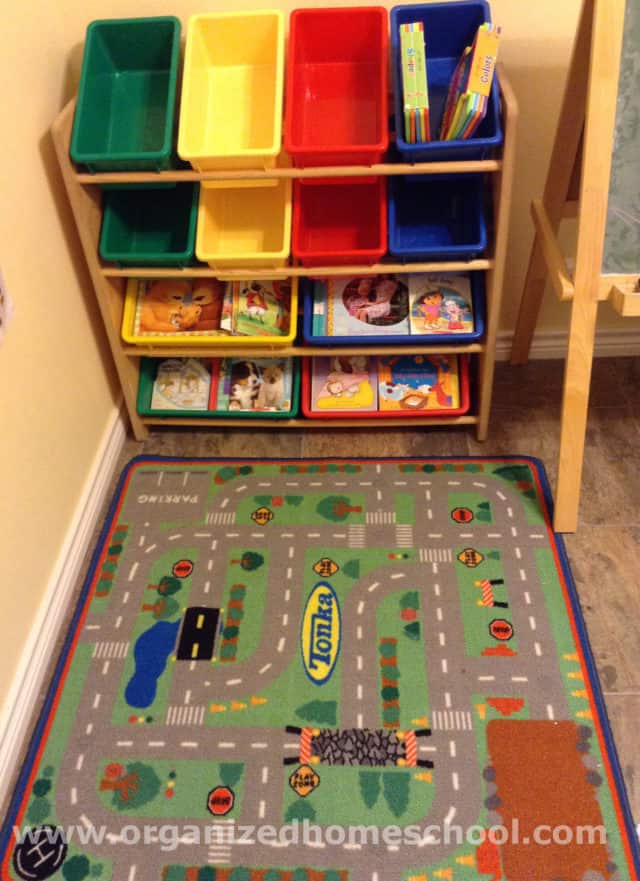 The Reading Corner
Now that I have added these 7 easy homeschooling room ideas to our space, we have dubbed this corner the "Reading Corner". My preschooler has really enjoyed it since her books are in this area.
It is amazing what little touches like these do to the productivity of your homeschool.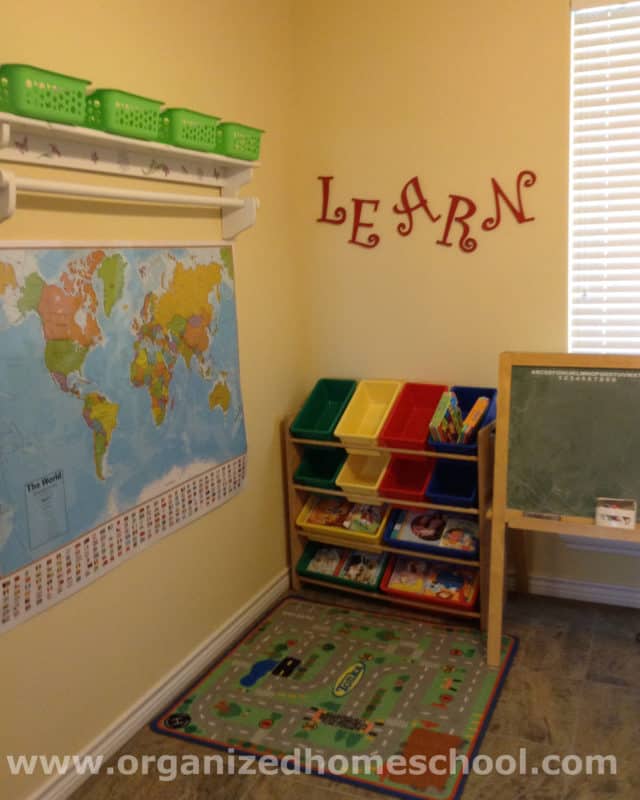 RELATED POSTS: