Do-Able Ideas for Organizing Kid's Books
Are you looking for ways to for organizing childrens books or how to organize your homeschool curriculum?
Today, I tackled the task of organizing childrens books.
I have 4 children, ages 13, 11, 3, and 3 months.
I'm a homeschooler, so you know that I LOVE Books. We have so many books and they can get really out of hand and all over the house if we do not have a designated place to home the children's books.
This is what the book organization looked like after the move.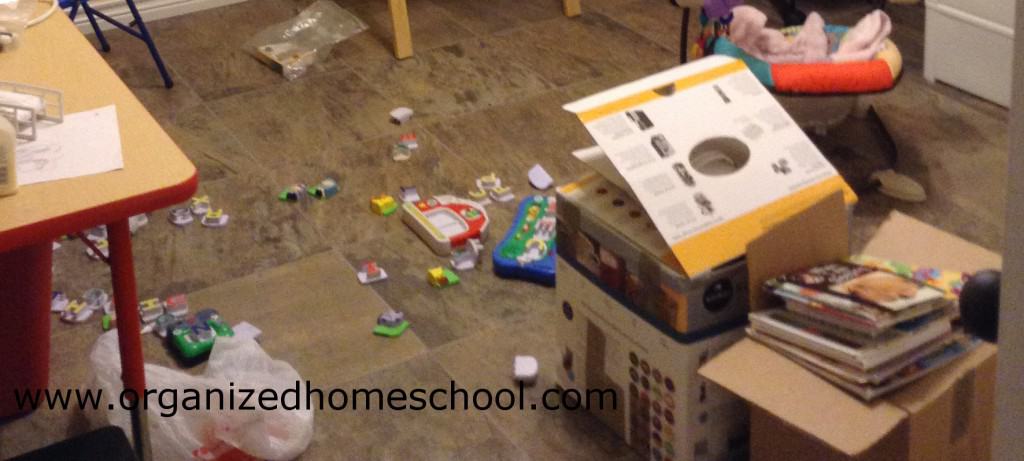 These boxes represent only the toddler's books.?They sat in these boxes for about 2 months before I could handle it no more!
My 3-year-old would take a ton of books out of the boxes and strew them throughout the house.
Organizing the children's books, therefore, became my top priority this week.
There are many ways of organizing children's books.
I think it is important to have functionality over perfection. The toddler books don't have to look perfect. Believe me, they will not stay that way.
Key points to consider when organizing children's books:
Create a home for the books so that the children can easily return them
Make sure they are accessible to the little ones (on a low shelf)
Rotating the books available will keep it interesting and not overwhelming
Make sure the books available for little ones are age-appropriate (store older children's books on higher shelves)
After I unpacked the boxes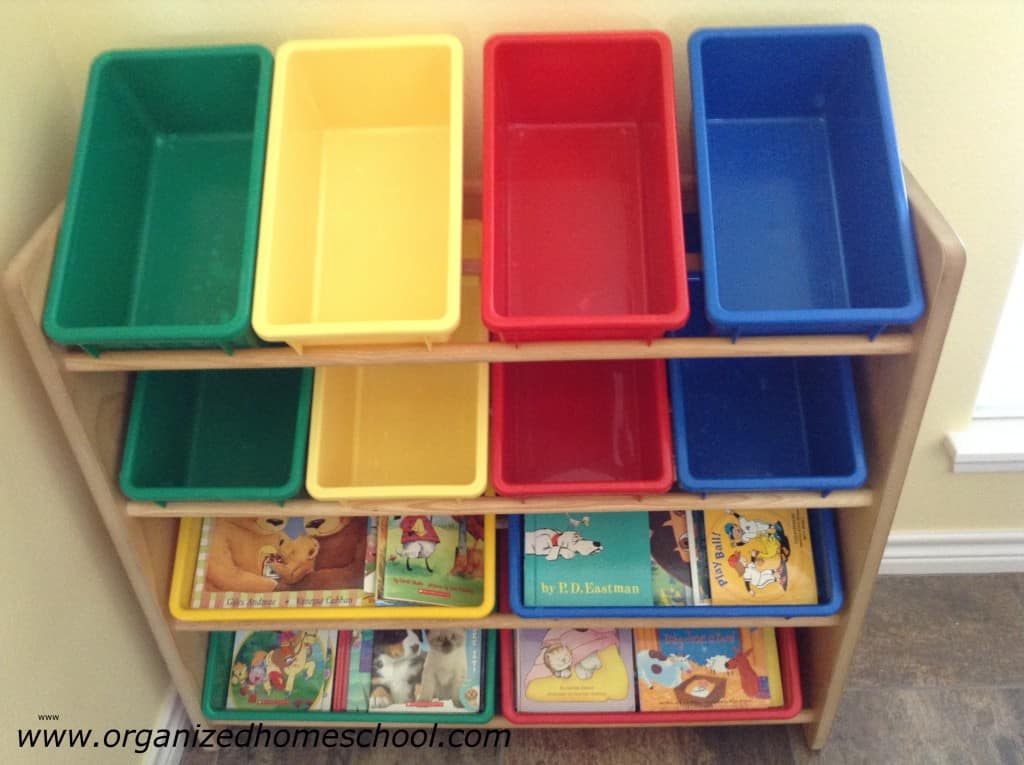 Here you can see I used these toy bins to store our toddler and pre-k books. The bottom two rows are full of books that my small children can easily reach and help clean up and put away! You can get bins like these on Amazon.
If you have a lot of children's books to organize, only keep out a small amount. Put the rest of the books in a basket, and rotate the books to keep it interesting for your young ones. I also like to do this because I get tired of reading the same books over and over again several times a day!
As for organizing older children's books, you can use a traditional bookshelf.
I like to organize our books by type.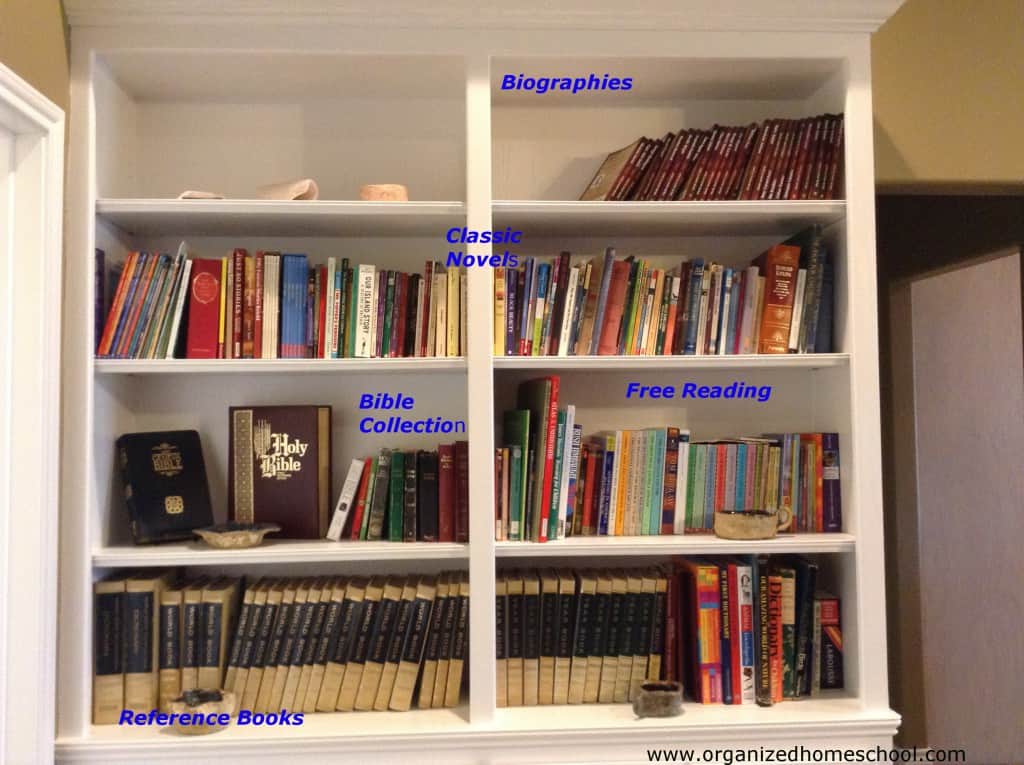 You will see in this picture, I have the reference books on the bottom shelf, such as encyclopedias, atlases, dictionaries, and thesauruses. The next two shelves include classic novels as well as free reading material that my older elementary and teenage children enjoy. One shelf includes our family bible collection altogether. The top right hand shelf includes biographies that we have collected over the years.
I also use a separate closet in our homeschool room to store our homeschool curriculum and textbooks.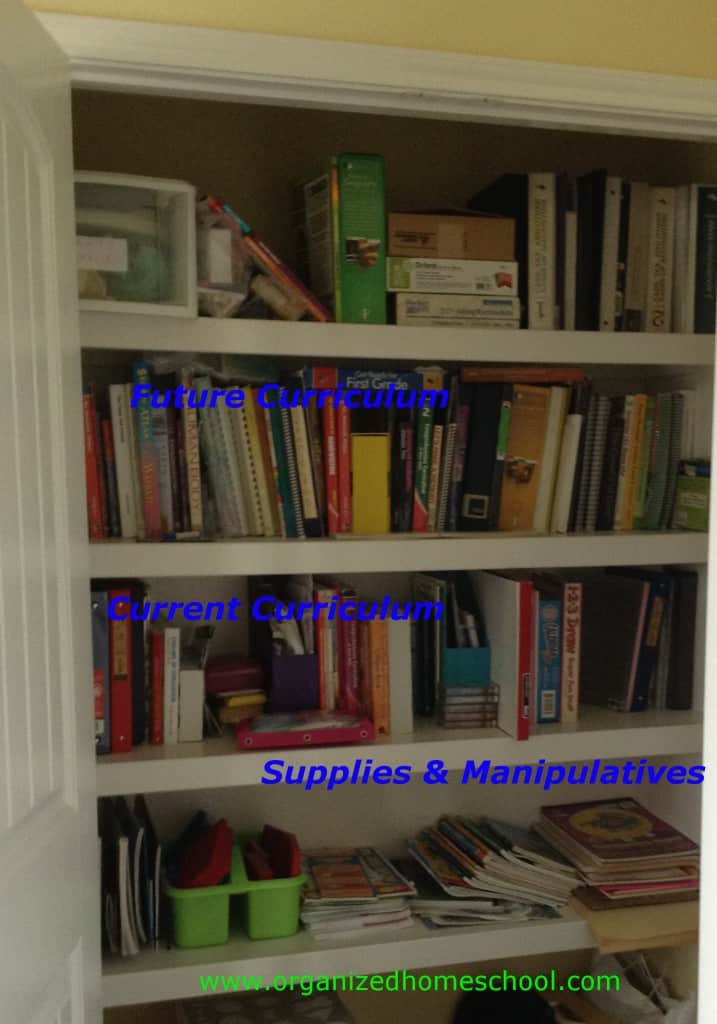 The bottom shelf consists of homeschool paper supplies and manipulatives. All of the books we are currently using this year are on the next shelf (it is eye level with my children). The top two shelves house books and curriculum that we will use in the future or reference occasionally.
This is what works for us in organizing our children's books.
I keep the books I read for pleasure or reference in a bookshelf in my bedroom. I have it organized by topic. For example, I have a section for self-improvement books, fiction, nonfiction, and devotionals.
More Top Ideas for Organizing Children's Books
Label Your Children's Books
This is a great site with free labels to attach to books. She color coordinates the books by subject or topic. This is another way of organizing children's books.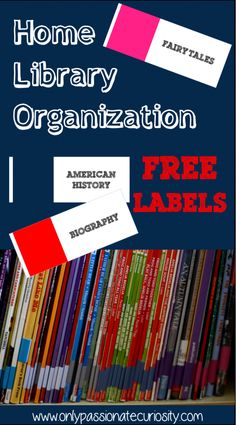 I also found a great website, Kinder-Craze, where she posts where she bought all of the organizational bins and baskets for organizing her children's books. She also sells labels for the bins.
Donate Your Children's Books
Many organizations would LOVE to have the books you no longer use or enjoy. Some places to donate used books include:
Local Library
Church Library
Daycare Centers
Nonprofit children organizations
Women and children shelters
Salvation Army
---
RELATED POST: Where to Sell or Donate Your Used Homeschool Curriculum
---
Sell Your Children's Books
If you want to make a little extra spending money, then you can always sell your children's books you no longer need. There are several avenues available where you can sell your books:
Ebay
Craigslist
Yard Sales
Half Priced Books (retail locations)
Online book resellers
Homeschool Book Swaps
I feel so much better now that my children's books are organized and we have a system in place.
---
RELATED POSTS: