I have finally found the absolute best solution on how to declutter a house!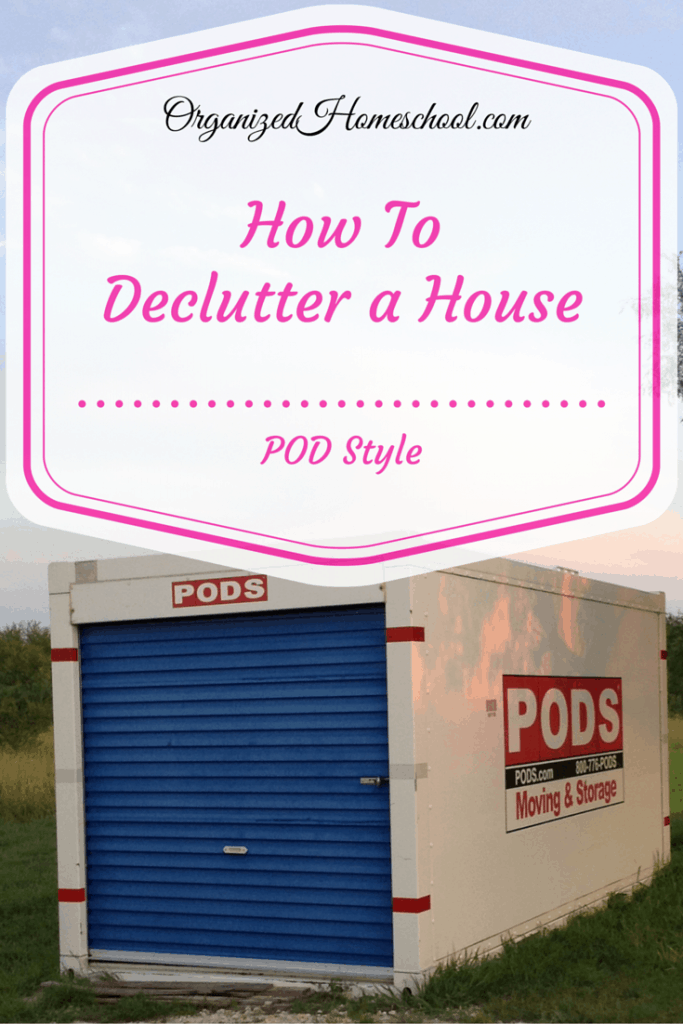 This post may contain affiliate links to products I recommend. This means I make a small commission off your purchase, but this does not affect your price.
Are you ready for it?
RENT A POD!
Yes it is a little unsightly, and this size POD cost $180 month, but I don't intend to keep it forever. In fact, if the things I put in this nice little storage solution stay there untouched for over a month, then that gives me the green light to implement the DST Method (Donate, Sell, Trash)
How To Declutter a House Using the POD Method
If you read my Minimalist Living Tips post, then you know the back story to this method I have devised. We live in the middle of nowhere and although it is peaceful and serene living on 14 acres, it is also lonely and inconvenient.
We decided to put our house on the market this month and I needed to get it in tip-top shape before the professional photographer came to take pictures for the listing.
Living in a home with four children, a work at home husband, and homeschooling can make life messy.
I was really inspired reading posts on minimalist living and ran across the idea of how to declutter a house by imagining that you are moving. It really made complete sense to me.
We have moved over 15 times in our 22 years of marriage and with each move I sell and donate a ton of stuff. But alas, the decluttering process is a journey of a lifetime I am afraid.
There are several reasons I chose the POD method of how to declutter my house:
It was already parked in my driveway! Ha! We used it to store inventory for our Amazon business
We don't have a basement
We have limited space in our attic
It was less expensive than renting a local storage unit
How To Declutter a House – Ask Yourself These Questions
Sometimes it can be hard to know when to let go of an item. Often we may think we need to keep it, but the reasoning doesn't make sense. Use these questions to help!
Is it broken? If so, is it worth fixing?
Has this item been used in the last year? If not, will it be used in the near future?
Would it be expensive or difficult to replace?
Am I keeping it simply because it would be harder to get rid of it?
Would I prefer this item, or the space it is taking up?
If I were moving to another city today, would I keep it?
Is there someone who can enjoy this item or benefit from it more than I am?
Do I have other things that serve the same purpose?
Does it fit your style, your space, your needs, your body, etc.?
Gather These Basic Supplies to Get Started
Cleaning clutter from your home can lead to less stress and more productivity. You will also receive mental and physical health rewards as a result of less stress in your life. More free time is another benefit, since you are not wasting time always looking for things.
Cleaning supplies
Boxes
Magic markers, sharpies
Adhesive backed labels, post-it notes
Clear glass jars
Stepping stool, 3 step ladder
How To Declutter A House – Rules to Follow
Now you can do like I did and run through the house like a tornado and do it all in one day or take a slower approach and follow the rules below:
Declutter at least one thing per day
Try setting a 15 minute timer for decluttering
Don't get overwhelmed! Every little bit helps
Either trash, recycle, organize or donate items
Use boxes for each category
Start with the easiest items if it helps you!
Be prepared to let go of things and guilt!
Buy less to keep clutter at bay
Tune into how clutter makes you feel

How To Declutter a House – Room by Room
Ok, I know. You want to know exactly how I did each room and more importantly, you want to see the results. Am I right? Okay, here we go.
Kitchen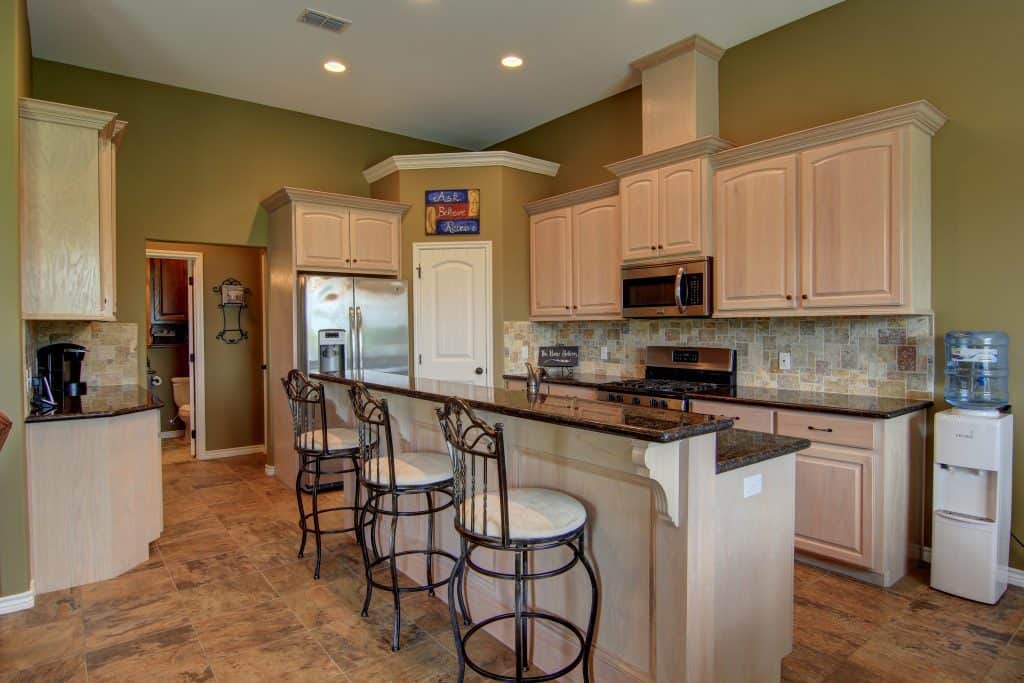 Begin with your lower cabinets. This can free up a lot of space for countertop appliances and other items.
Use a left to right pattern. This keeps you from jumping around, and makes you more efficient.
When you are finished with your lower cabinets, declutter your upper cabinets.
Work on your kitchen drawers next, starting with those that you use the most.
Now you can clear your countertops, using the space you created when you decluttered your cabinets.
Finally, work on your pantry from the top down.
For more Kitchen organization ideas, see: Simple Kitchen Organization Ideas
---
Family Room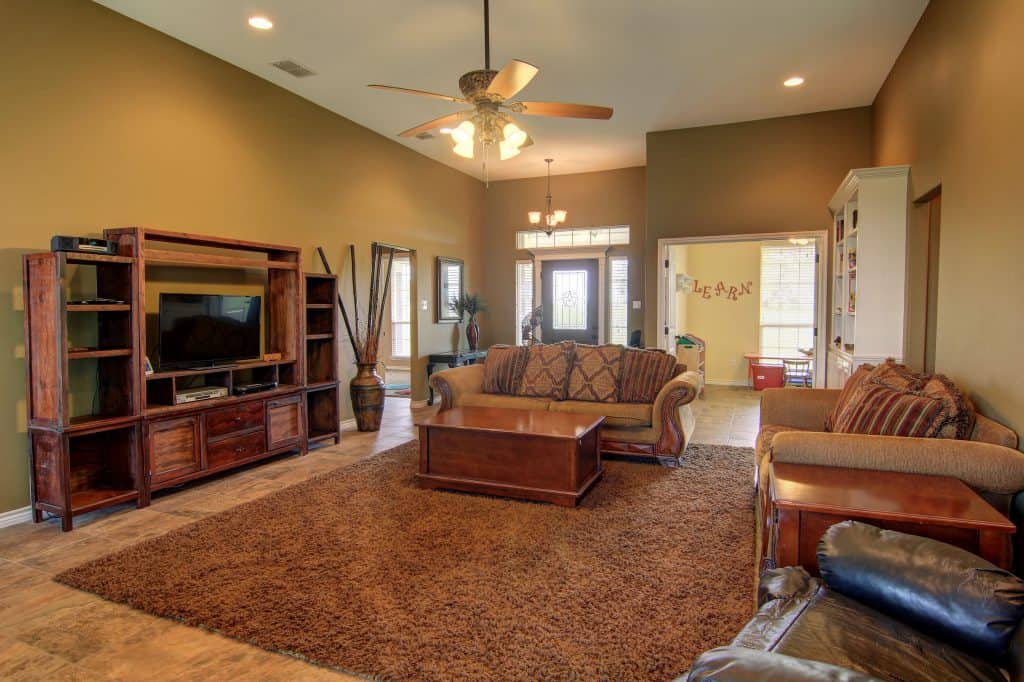 Consider buying furniture that has built-in storage space.
Go through the toys, DVDs, video games, books, magazines and knickknacks in your living room. Do you really need them? Can someone else use them? Purge as many as possible.
Perform an honest furniture appraisal. Is there any furniture you can get rid of without limiting the functionality of your family room?
---
Office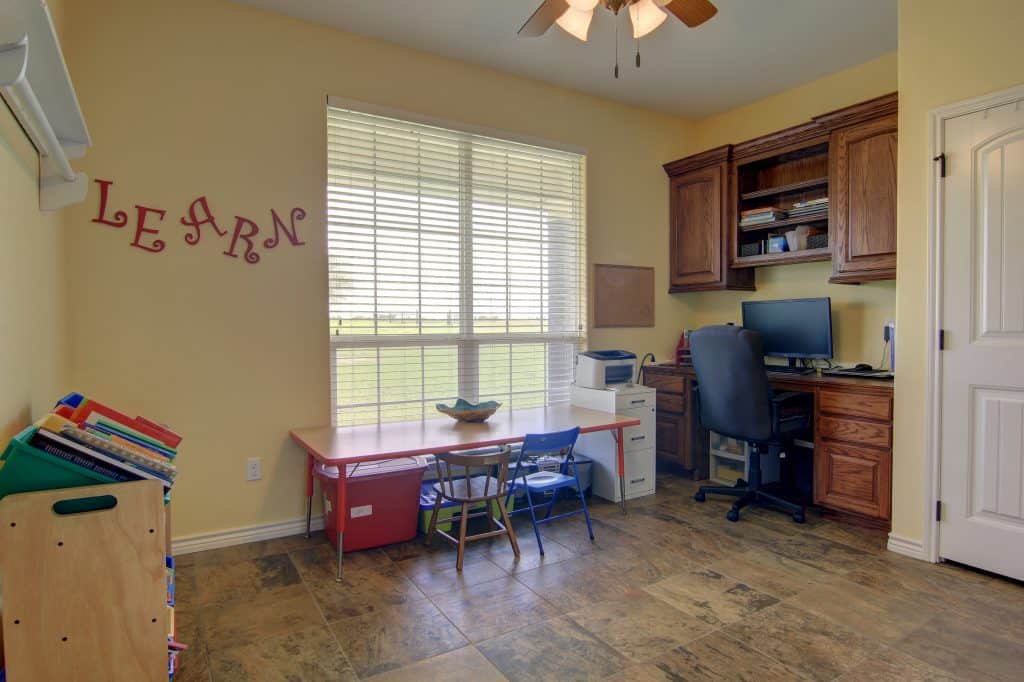 Create zones – one for storage, one for paperwork, one for research and one for computer work.
Limit your desk to what you need on a daily basis. If you don't use something every day (or at least once a week) relegate it to a drawer or storage area, instead of your desktop.
Limit the number of personal items on your desk.
Post-it notes can be distracting. Every day, transfer all notes and messages you have jotted down to your digital calendar or day planner.
Get your printer off of your desk.
Sit in your office chair and extend your arms.
Within arm's reach should only be those things you use on a daily basis.
Purchase drawer organizers. I like these!
Use zip ties to declutter cables and cords.
---
Bedroom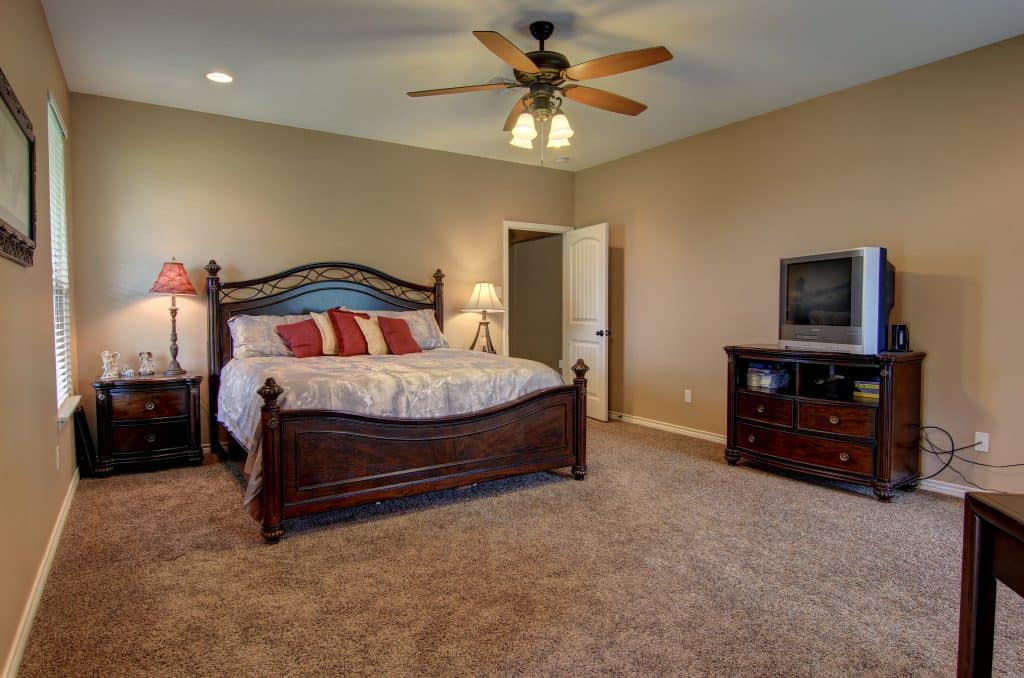 Make your bed every morning. This is what psychologists call a keystone habit – one that triggers you to perform other positive habits every day.
Walk through your room, clearing basic clutter first.
Dust and clean your bedroom thoroughly.
Use plastic bins with lids for under the bed storage.
Add a clothes hamper, and take your clothes to your laundry room daily. We have one built into the bathroom cabinets but I also keep one in our closet
Throw out old magazines. Hardback books you want to keep should be put in drawers in the nightstand or in bookshelves
A bedside table with drawers will keep your nightstands clean and clutter-free.
---
Laundry Room
First things first, wash, dry and hang up all of the laundry in your home. This may be a big task, but it needs to be done first.
Next, remove anything sitting on top of your washer or dryer.
Start at the top of any shelving units in your laundry room and work down. Declutter and organize.
Take out anything that doesn't make sense. If you are storing your bicycle in your laundry room, take it to the garage and hang it from ceiling hooks.
Plastic bins or baskets should be used to store similar items. For example, bleach, fabric softer and laundry detergent should all be stored in the same bin.
Do you keep your cat's litter box in your laundry room? If so, purchase a litter box system with a shield or cover (similar to this one). This reduces spillage onto your floor.
---
Bathroom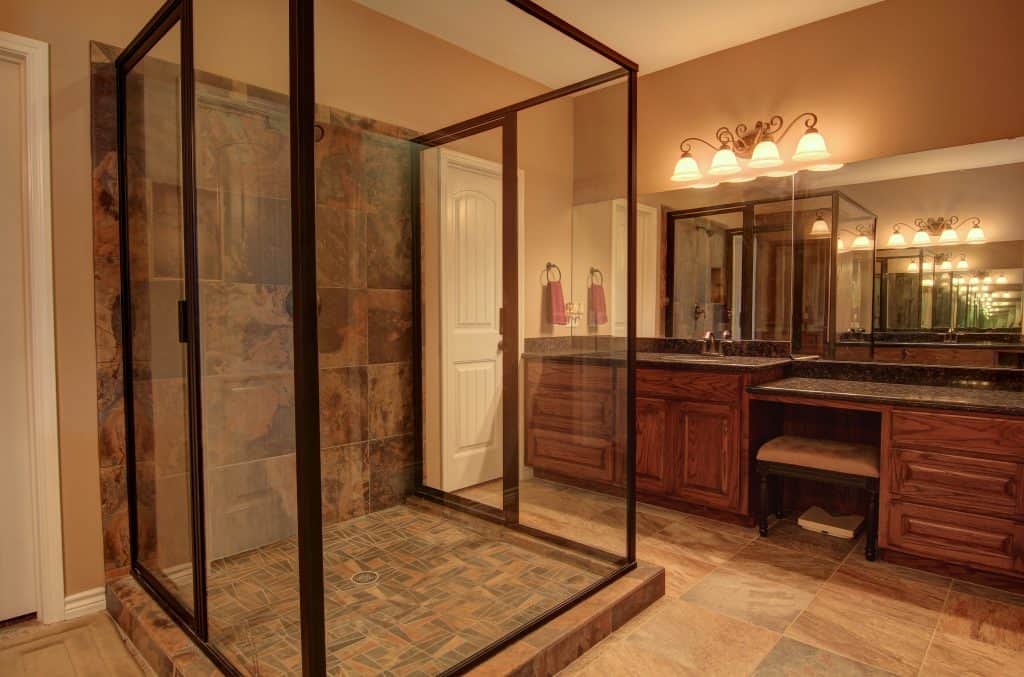 Remove dirty clothes and towels.
Perform a quick and basic decluttering of countertops, shelves and furniture.
Purchase hanging racks for your shower and use them to organize your shampoos, conditioners, soaps, etc.
Organize your linen closet, and the cabinets below your sink.
Attack your medicine cabinet next, throwing out everything that is expired.
Remember these tips – powder-based beauty products are good for 18 to 24 months. Lipstick and lip gloss should not be kept more than a year. Mascara and liquid eyeliner should be replaced every 3 to 6 months. Liquid foundation can last for up to a year


---



Store Boxes In The POD (if you have one)
Now you know how to declutter a house room by room. After applying the DST Method (Donate, Sale, Trash) take your remaining items that you cannot part with, but don't use all the time and put them in boxes labeled accurately.
Put the boxes in the POD, attic, or basement and forget about them. With the exception of seasonal items that you use once a year or in certain seasons, if you do not need anything out of these boxes within one month's time…..you don't need the stuff!
One by one, take a box out and apply the DST Method to that particular box. You cannot keep the items in the box. Do not bring the box back into your house. Donate, Sale, or Trash all items in the box that you have not touched in over a month.
This will ensure that your house stays decluttered for the long haul. It's all about maintaining it after that.
The great part is that you are starting off with a clean slate.
---
Share with me how you declutter your home? What do you think about the POD method? Do you think I'm crazy??
---