9 Gotta-Know Tips for Organizing Your Small Bedroom Closet
Are you tired, frustrated, and worried because you don't know how to start organizing your small closet at home? I understand. It's difficult to figure out how to organize a small closet.
But with the right steps, you can have that closet in tip-top shape in no time.
In this blog post, I'm sharing with you all my favorite organization ideas and nine practical tips for turning your closet from spaceless to spacious.
Let's dive in!
How to Organize a Small Closet: 9 Must-Use Tips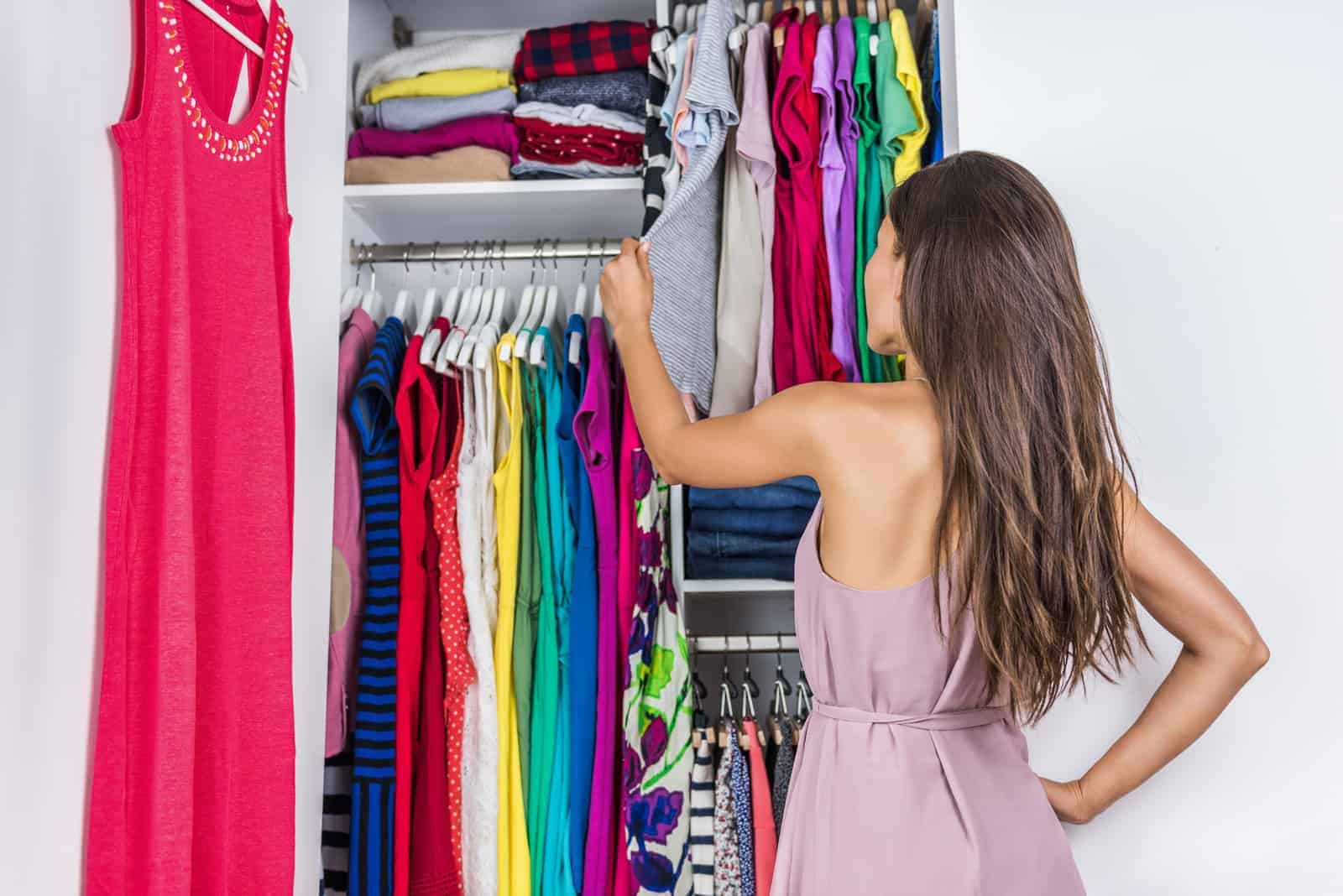 Bring What You Need, Leave What You Don't!
If you haven't used anything in years, it probably isn't worth saving. As difficult as it may seem, you really have to throw, sell, or give away the clothing that you don't need anymore.
That being said, if it's an exceptional designer piece, a vintage acquisition, or something you know will return to your fashion life, keep it on the road!
Invest in More Space
If you want to make more space inside your closet, consider buying slim hangers from Amazon. These hangers will let you hang more clothes without having to store everything in your small space.
Another idea is to try buying a set of shoeboxes like this stackable shoe box organizer from Amazon so that you won't have a hard time organizing your shoes and sandals, giving you a cleaner and more organized closet in the end.
Try to Grouping the Same Colors Together
Mix colors from your clothing to your other accessories. This is super effective because you'll be able to find anything with ease thanks to simple color-coding. Simply group similar items such as pants with pants and blouses with blouses together with a single color for each individual clothing category.
Pack Your Bags
Have you ever wondered where to place your highly valuable items instead of stacking them inside your small closet? Well, the best place to put them is inside a bag. A safe and secure bag is the best option for this situation.
It's also highly essential to keep them a secure as possible, making sure that they don't break or decay.
Learn to Declutter
Set aside some time to declutter, especially with your accessories and other non-essential things inside your closet. Anything that doesn't belong or can be further categorized is something that needs to be either thrown away or moved. Most commonly, these are items like jewelry, hair ties, and other small decoratives and accessories. Your closet shouldn't be a storehouse for anything that doesn't have a home elsewhere!
Get a Coat Rack
For anyone whose small closet is already full to the brim or for those who don't have a cabinet, a separate coat rack is a lifesaver. Since your wardrobe is exposed, you'll also be forced to keep your clothes neat and pretty, rather than in a bunch of avalanches in the closet.
If you have limited space, put a small dresser and shoe rack under your hanging clothes. Accessories like hats or jewelry can be stored on top of the dresser.
Use Modular Shelves
Another great way to make extra room for things that don't fit in the closet is a modular or tiered shelving system in your room. Save the essentials and display the most beautiful outdoor items to use as decorations.
Install Sliding Doors
Sliding doors can save your life and are easy to make. They're great space savers, especially in narrow corners where two doors swing from each other. If you're in need of some inspiration, Vintage Revivals has a great comprehensive tutorial!
Get Shelf Dividers
Having trouble keeping your stack piles of clothes intact inside your small closet? For this problem, the solution is to use shelf dividers! You can stack taller piles on the sides without worrying that your sweaters will tip over and fall to the ground.
How to Organize a Small Closet: Tips and Tricks for Daily Upkeep
At justagirlandherblog, you'll find a great tutorial that shows you how to make optimal use of this space and organize a small cabinet so that its functionality is maximized in the way that suits you best.
Speaking of cabinets, consider using cardboard sheets as dividers to separate one pile of clothing from another.
Keeping a closet clean and organized might feel next to impossible at first, but the more you do it, the easier it becomes. You can simply organize your closet by dividing each layer by category. Have a category for t-shirts, pants, shoes, and anything else that belongs in your closet. Each layer must have its own function, instead of having an ample common space where you can store everything.
Having trouble because you can't seem to fit your clothing inside your closet? Worry no more, because according to athoughtfulplaceblog, you can simply use excess or extra poles for your windows and install them inside your small closet instead. With this D.I.Y idea, you'll be able to hang your clothes inside your closet without trouble.
But always remember, before you proceed in restructuring or organizing your wardrobe, always make sure to plan it out first, to make sure that you won't make any type of mistake working. You can also ask for professional help, especially for installations of detailed renovations. You can try and look for tutorials in Brittany Vasseur's YouTube channel too.
FAQ's About How to Organize a Small Closet
How wide should a closet shelf be?
Answer: The top shelf of a cabinet is usually 84 inches off the floor. If you use a 16-inch shelf depth, you only have 8 inches of clearance between the front of the top shelf and the cabinet head, according to JohnLouisHome.com.
Should I organize my closet by outfits?
Answer: Try to place the categories you use the least, such as prom dresses, in an area of the closet that is most difficult to reach. The clothes you wear most often, like everyday blouses and dresses, should be the most accessible. Be sure to put all of your clothes on hangers so they stay in place, says MyDomaine.com.
Bottom Line
Sometimes it's not the fault of the closet that the content is disorganized. But with these tips, you can easily make time to create the perfect plan for organizing your closet.
Bonus tip! Always make sure to check your closet every once and a while to make sure that it stays clean and organized. Another good idea is to make sure that whenever you're cleaning your room, you clean your closet too.
So what are you waiting for? The closet of your dreams won't make itself!
---
RELATED POSTS:
---